How BetterVet Care Works in Austin
From wellness and vaccination to quality-of-life consultations, we can care for your pet in the comfort of your home.
Austin Mobile Vet Coverage Map
We provide mobile veterinary services in the Austin area, including:
Austin

Buda

Cedar Park

Georgetown

Hutto

Leander

Manchaca

Manor

Pflugerville

Round Rock
In-Home Vet Services in Austin
Our Austin Mobile Veterinarians
Close
Our Service Hasn't Reached Your Area Yet
Close
Woof-hoo! BetterVet Is in Your Area!
See what services are available in your neighborhood or schedule an appointment below.
What Our Austin Clients Say
Dr. Fraser and Ben arrived on time and we're super friendly and very helpful to my lab,Friday,who was in pain. After assessing her Issues and helping me with that they were able to fit in her annual visit today even though it wasn't scheduled. This is extremely helpful! I will definitely be using them again for all my animals. Love it!
The team is friendly, knowledgeable, practical, and very convenient. I will definitely call them the next time I need a vet.
We were extremely impressed with the attention to detail and the on time service we received. The kindness and concern for our elderly lab was appreciated. Should you need their service you will not be disappointed.
Pet-Friendly Services & Activities in Austin
More Helpful Resources in Austin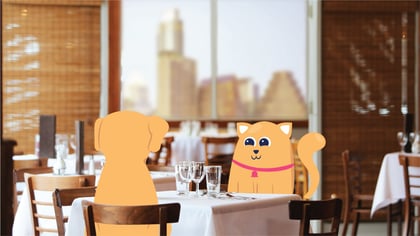 Dogs make the best travel buddies, and when you hit the open road with your furry sidekick you need...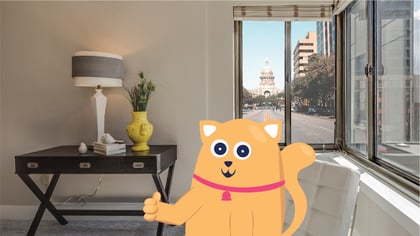 Austin, TX, is a favorite vacation location for many reasons, including the beach, barbecue, music,...
Experience the BetterVet Difference at Home
Skip car rides on I-35 and waiting rooms and schedule a stress-free mobile vet visit instead. Our trusted veterinarians will make sure your pet feels right at home.
Frequently Asked Questions
Is Austin Texas a dog-friendly city?
Austin is known as one of the most dog-friendly cities in America, consistently ranking among the top on pet-friendly city lists. The city has ample outdoor space and activities catering to canines such as the Austin Puptopia festival in October. With its temperate weather, outdoor dining is commonplace and dogs are a welcome addition to many of Austin's dog-friendly restaurants. In other cities you might struggle to find pet friendly activities, but in Austin there are lots of places that welcome people and their pets.
Does Texas require a pet license?
Texas State Law requires that all dogs and cats four months or older have current rabies vaccinations. Animal Control enforces this law by requiring all resident pet owners to show proof of their animals' current rabies vaccination certificate when purchasing a city pet license. However, the state of Texas leaves the licensing requirements up to the city or county. For example, Boerne City requires all cats and dogs to be registered and licensed with Animal Care Services, while Dallas only requires that you microchip your pets and you don't have to register them with the city. Check the county and city for specific laws governing pet requirements.
What are things you need to consider when you have a pet in Austin?
Cost
Time
Space
Restrictions
Cleanliness
Temperament
Lifestyle
Does Austin have a leash law?
Austin requires that dogs be on a leash at all times, except when you are in one of the city's designated off-leash areas. Keeping your dog on leash helps protect them from traffic, wildlife, and unrestrained animals. The leash law is in effect in Austin for the safety of your dog and those around them.
Where is it safe for dogs to swim in Austin?
There are a number of safe swimming spots for your dog in Austin, including fully off-leash dog parks with streams:
Turkey Creek Trail
Onion Creek
Jumping Jack Dog Ranch
Cedar Bark Park
K9 Water World
Walnut Creek Park