How BetterVet Care Works in Pittsburgh
From wellness and vaccination to quality-of-life consultations, we can care for your pet in the comfort of your home.
Pittsburgh Mobile Vet Coverage Map
We provide mobile veterinary services in the Pittsburgh area, including:
Apollo

Bethel Park

Braddock

Bridgeville

Carnegie

Clairton

Claridge

Delmont

Dravosburg

Duquesne

East McKeesport

East Pittsburgh

Elizabeth

Export

Glassport

Greensburg

Harrison City

Irwin

Jeannette

Lawrence

Manor

McDonald

McKees Rocks

McKeesport

Monroeville

Murrysville

New Alexandria

North Versailles

Oakdale

Penn

Pitcairn

Pittsburgh

Saltsburg

South Park Township

Southview

Sturgeon

Trafford

Turtle Creek

Verona

West Elizabeth

West Mifflin

Wilmerding
In-Home Vet Services in Pittsburgh
Close
Our Service Hasn't Reached Your Area Yet
Close
Woof-hoo! BetterVet Is in Your Area!
See what services are available in your neighborhood or schedule an appointment below.
What Our Pittsburgh Clients Say
BetterVet is wonderful. My dogs don't get all stressed by getting in the car and going to an unfamiliar place. Dr. Olivia is awesome and so great with my pups, as are the vet techs. So happy they're in Pittsburgh now!!
We had such a great visit! My dog does not love the car, so this was such a great option and I think the doctor was able to get a much better understanding of how he acts in his own home. I highly recommend!
Better Vet is an absolute game changer for our two cats. I am so relieved and ecstatic to find a service like this in Pittsburgh. Our cats received their wellness checks AND vaccines from Dr Wilson and Jennifer in the comfort of our home. The cats were calm before, during, and after the visit. Absolutely no drama! Highly recommended, 100% worth it, never heading into the vet office again. Thank you!
Pet-Friendly Services & Activities in Pittsburgh
More Helpful Resources in Pittsburgh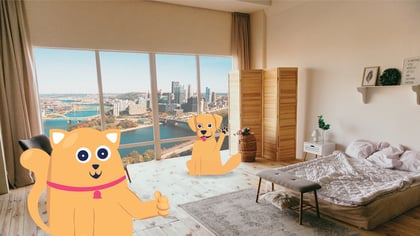 A break from the daily grind is always a good thing. For some people, that means spending time away...
Experience the BetterVet Difference at Home
When your pet needs care, one of our trusted veterinarians will come to you! Skip the traffic on the Parkway and schedule an in-home visit instead. Your pet will thank you for it!
Frequently Asked Questions
Is Pittsburgh a pet-friendly city?
Definitely come to Pittsburgh with your four-legged friends. There are plenty of pet-friendly hotels, activities, and delicious dining options for you and your best friend.
How many dogs can you own in Pittsburgh?
You can own a maximum of five pets. You cannot have more than five dogs or cats or any combination. For example, you may have five dogs or five cats, or three dogs and two cats. Five is the maximum.
Where can I take my dogs swimming in Pittsburgh, PA?
There are plenty of parks where you can take your dog swimming, including:
Bellevue Memorial Park Swim Pool
Duck Hollow Trail
Lucky Paws Pet Resort
Misty Pines Pet Company
North Park
Frick Park
Peters Lake Park
Settlers Cabin Park
Are dogs allowed at Penn Brewery?
Dogs are allowed in Penn Brewery's outdoor Biergarten, which is located at their primary North Side location at 800 Vinial Street, Pittsburgh, PA. They can be reached at 412-237-9400.
Do you need a dog license in PA?
Yes, and you have the choice of purchasing an annual license and a lifetime license.
All dogs three months of age and older living in Pennsylvania must be licensed by January 1 of each year. Violators will be cited up to $300 per violation, plus court costs. There are different prices for licenses for those with disabilities and those who are 65 and older.