How BetterVet Care Works in Detroit
From wellness and vaccination to quality-of-life consultations, we can care for your pet in the comfort of your home.
We provide mobile veterinary services in the Detroit area, including:
Allen Park

Ann Arbor

Auburn Hills

Berkley

Birmingham

Bloomfield Hills

Brighton

Canton

Clarkston

Clawson

Clinton

Dearborn

Detroit

Dexter

Eastpointe

Farmington

Fenton

Franklin

Fraser

Grosse Pointe

Hamburg Township

Harper Woods

Harrison Township

Holly Township

Howell

Huntington Woods

Keego Harbor

Lake Orion

Leonard

Livonia

Madison Heights

Milford

Mount Clemens

Northville

Novi

Oakland

Oxford

Pinckney

Pleasant Ridge

Plymouth

Pontiac

Rochester

Roseville

Royal Oak

South Lyon

Southfield

St. Clair Shores

Sterling Heights

Troy

Utica

Walled Lake

Warren Township

Waterford

Wayne

West Bloomfield

Westland

Whitmore Lake

Wixom

Ypsilanti
In-Home Vet Services in Detroit
Close
Our Service Hasn't Reached Your Area Yet
Close
Woof-hoo! BetterVet Is in Your Area!
See what services are available in your neighborhood or schedule an appointment below.
What Our Detroit Clients Say
Dr. Bayne and Brenda were so caring with my dog hamlet. Dr. Bayne took the time to ask questions and actually listen to my answers. He also used his vast knowledge to come up with the a regimen to hopefully get my sweet boy back on stable ground. He was honest and empathetic with his prognosis. You can tell that this isn't just a job for the both of them. Highly recommend!
Dr. Scott Perry was very caring and informative regarding our video call going over some concerns we had regarding our 15yr old Pug. My husband and are are so grateful for this Veternary Service and would absolutely recommend to anyone with a fur baby.
We were unable to get our K9 fur baby in the car to take her to the vet so I called BetterVet, best call I made. Dr. Rice and her assistant were caring and gentle with Katie plus they were very professional and personable. Thanks again.
Pet-Friendly Services & Activities in Detroit
More Helpful Resources in Detroit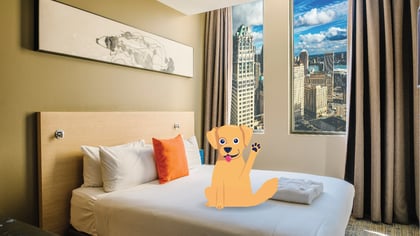 Michigan is one of the top vacation destinations in the United States. Loaded with plenty of great...
Experience the BetterVet Difference at Home
No more navigating I-94 with your pet as your co-pilot, we come to you! Schedule a convenient mobile vet appointment and stay in the comfort of your home.
Frequently Asked Questions
How do I register my dog in Detroit?
In the state of Michigan, dogs six months or older need to be licensed and wear the dog registration tag. To register your dog in Detroit, you need to apply in person at Detroit Animal Care and Control. You will need to show owner identification, proof of rabies vaccine, and payment. Dog license fees are $10 for neutered dogs and $15 for dogs that are not neutered. The dog license is renewed yearly (even if your dog has been given a three-year rabies vaccine).
What does the SPCA do with stray animals?
When a stray/lost animal is taken to the SPCA, the local by-laws prescribe how long the animal must be kept before it can be put up for adoption if not claimed by its original owner. When the pound period expires, it does not mean that the animal is euthanized. It means the animals can be legally adopted.
Who do I call for a stray dog in Detroit?
How many dogs can you have in the city of Detroit?
The City of Detroit has a limit of 4 dogs over the age of four months in one residence.
What vaccinations are required for dogs in Michigan?
Michigan requires that dogs and puppies must be vaccinated against distemper, parvovirus, and adenovirus-2. Rabies vaccinations are legally required for dogs over four months of age. Dogs 12 weeks of age or older must also be currently vaccinated against leptospirosis and rabies.