How BetterVet Care Works in South Florida
From wellness and vaccination to quality-of-life consultations, we can care for your pet in the comfort of your home.
South Florida Mobile Vet Coverage Map
We provide mobile veterinary services in the South Florida area, including:
Boca Raton

Boynton Beach

Coral Springs

Dania Beach

Deerfield Beach

Delray Beach

Fort Lauderdale

Hallandale Beach

Hialeah

Hollywood

Jupiter

Key Biscayne

Lake Worth

Loxahatchee Groves

Miami

Miami Beach

Miami Gardens

North Miami Beach

North Palm Beach

Opa-locka

Palm Beach

Palm Beach Gardens

Pembroke Pines

Pompano Beach

Wellington

West Palm Beach
In-Home Vet Services in South Florida
Our South Florida Mobile Veterinarians
Close
Our Service Hasn't Reached Your Area Yet
Close
Woof-hoo! BetterVet Is in Your Area!
See what services are available in your neighborhood or schedule an appointment below.
What Our South Florida Clients Say
This is just too good, both pets were well cared for with no problems. Much better than a trip to the vet office and very reasonable cost. Could not be happier. Finn really liked the experience.
We love Dr. Steve. He is kind, compassionate and listens well. He explains everything thoroughly and has a great demeanor. We highly recommend him.
I can't thank Dr. Steve enough for the care he's given my fur babies. His care, patience and knowledge was above and beyond. Thank you!
Pet-Friendly Services & Activities in South Florida
More Helpful Resources in South Florida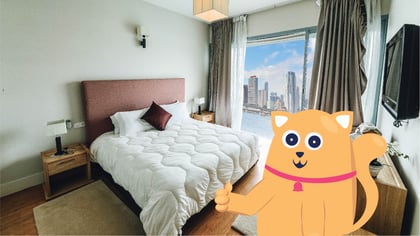 Most pet parents understand the stress and hassles of traveling with their fur buddies. Whether...
Experience the BetterVet Difference at Home
Avoid traffic on I-95 and schedule a mobile vet visit instead. Your pet will receive best-in-class vet care without leaving the comfort of home.
Frequently Asked Questions
Do you need a pet license in Florida?
In South Florida, it is required that each dog and cat over the age of four months must have a pet license. In order to receive one, the pets must receive rabies vaccinations or an exemption letter from their veterinarian.
What pets can you legally own in Florida?
The state of Florida recognizes some exciting and interesting animal species as legal pets including:
Asian Leopard Cats
Bats
Deer
Foxes
Marmosets
New Guinea Singing Dogs
Raccoons
Squirrels
Skunks
Sloths
Monkeys - some monkeys are legal, provided you get a Class 3 permit.
Is Florida a dog-friendly state?
Florida is a very pet-friendly state, with many vacation rentals, dog parks, and pet-friendly beaches. The weather is tropical and beautiful for most of the year and there is plenty of outdoor space to run around and play fetch.
What dog breeds are not allowed in Florida?
Florida does not ban any specific breed of dog at the state level. However, there are state restrictions put on "dangerous dogs". A dangerous dog in Florida is defined as: a dog that has aggressively bitten, attacked, or endangered or has inflicted severe injury on a human being on public or private property.
What vaccines are required for dogs in Florida?
Dog vaccinations (and/or preventative medications) required by law in the state of Florida include:
Rabies*
Canine distemper*
Parvovirus*
Adenovirus (canine hepatitis)*
Parainfluenza
Leptospirosis
Bordetella
Roundworms
Hookworms
The first four are considered core dog vaccinations (recommended for all dogs, regardless of exposure risk/lifestyle). A Lyme disease vaccination for dogs is recommended, but not legally required.