How BetterVet Care Works in Portland
From wellness and vaccination to quality-of-life consultations, we can care for your pet in the comfort of your home.
Portland Mobile Vet Coverage Map
We provide mobile veterinary services in the Portland area, including:
Beavercreek

Beaverton

Boring

Clackamas

Colton

Cornelius

Damascus

Eagle Creek

Estacada

Fairview

Gladstone

Gresham

Happy Valley

Hillsboro

Lake Oswego

Mulino

Newberg

Oregon City

Portland

Sandy

Sherwood

Troutdale

Tualatin

West Linn

Wilsonville
In-Home Vet Services in Portland
Close
Our Service Hasn't Reached Your Area Yet
Close
Woof-hoo! BetterVet Is in Your Area!
See what services are available in your neighborhood or schedule an appointment below.
What Our Portland Clients Say
Thank you BetterVet for being professional and helping our kitty. We were amazed at how well our cat responded and we will definitely use BetterVet for all of future exams and checkups!
Dr. Reitinger and Uriel gave excellent care to my skittish but sweet border collie mix girl. She does not like clippers or any machine noise for that matter and they showed lots of empathy and were able to adjust their "game plan" to our needs. Very happy!
The vet and technician showed up on time and prepared. They were efficient in carrying out the examination and vaccination. In summary they were professional and time efficient. They cared for my cat well.
Pet-Friendly Services & Activities in Portland
More Helpful Resources in Portland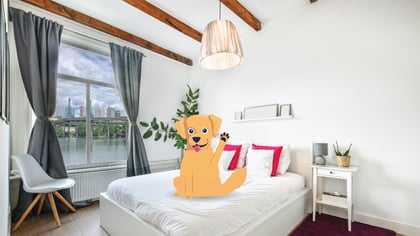 Sometimes our fur babies fall sick, and when they do, we feel their pain and want nothing but the...
Experience the BetterVet Difference at Home
Skip long waiting times and traffic on the Interstate when you schedule a stress-free mobile vet visit. Our trusted veterinarians will make sure your pet stays (and feels) right at home.
Frequently Asked Questions
Is Portland good for dogs?
According to WalletHub, Portland is the 3rd most pet-friendly city in the United States. The city boasts plenty of dog-friendly cafes, acres of parks and trails where you can walk with your dogs, and pet-friendly restaurants and breweries. There are also a number of fenced off-leash dog parks where you can let your dog run free such as Wallace Park and The Fields Park.
What should I know before getting a pet?
Cost. The cost of owning and taking care of a pet can easily reach hundreds of dollars per year
Time. Apart from monetary cost, you'll also be spending time raising your pet
Space
Restrictions
Cleanliness
Temperament
Lifestyle
Is Oregon a dog-friendly state?
According to SafeWise, Oregon is the 6th most pet-friendly state in America. The Oregon coastline is publicly accessible, and almost all beaches are pet-friendly. It offers more than a thousand accommodations that allow pets, with lots of activities and restaurants that allow canine companions. It is also one of the states most protected by animal welfare laws.
How many pets can you have in Portland Oregon?
The state of Oregon does not have any requirements as to how many dogs you can own. However, cities and counties may have a local limit with some requiring pet owners to obtain a license or permit.
Can dogs ride the MAX in Portland?
Every spring, we allow dogs to ride on MAX to and from Oregon Humane Society's Doggie Dash on Waterfront Park.