Seattle, Washington is a city that loves its dogs! With an abundance of green spaces and an active outdoor culture, Seattle is the perfect place to explore with your furry companion.
Fortunately, Seattle also boasts numerous dog parks that cater to the needs of every dog and their owner. Whether you're looking for a small neighborhood park or a large off-leash area, Seattle has something for every type of dog and their human.
If you're on the hunt for the best dog parks in Seattle, WA, we've got you covered. We've rounded up the top dog parks in the area, so you can find the perfect spot to spend quality time with your pup.
So, grab your leash and let's discover the best dog parks in Seattle!
Before having your dog socialize with others they aren't around often, it's best to ensure your furry friend is up-to-date on their vaccinations. Luckily, our team of mobile veterinarians in Seattle, WA can bring expert veterinary services such as vaccinations, microchipping, and wellness exams to the comfort of your home!
Luther Burbank Park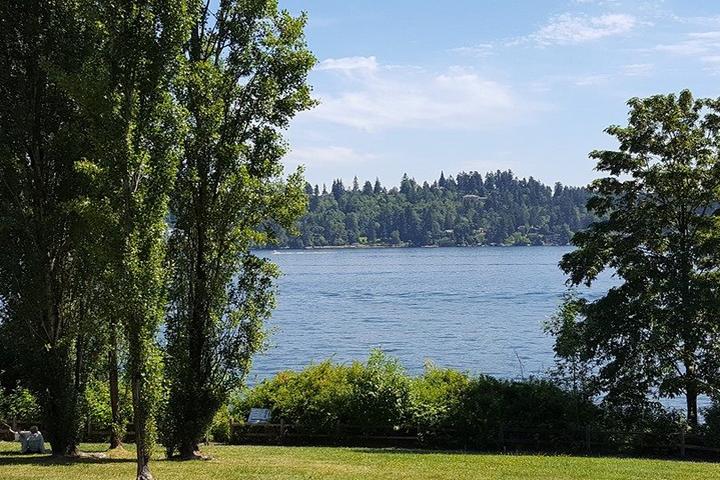 2040 84th Ave SE, Mercer Island, WA 98040
An off-leash area at the north end of the Luther Burbank Park in Mercer Island provides plenty of room for your pup to romp with other dogs. There is a shore area so water-loving dogs can get in the water and play.
Marymoor Park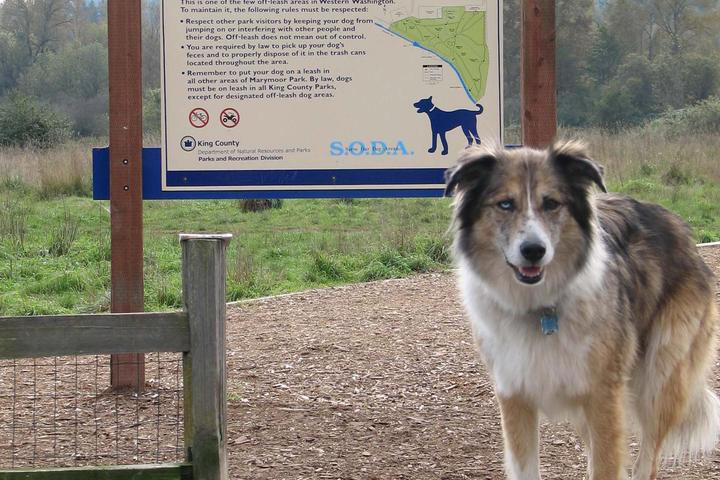 6046 W Lake Sammamish Pkwy NE, Redmond, WA 98052
Known locally as "Doggy Disneyland," Marymoor Park in Redmond, WA, is best known for its 40 acres of off-leash area. There are fields, woods and water. Total heaven if you're a dog!
Plymouth Pillars Dog Park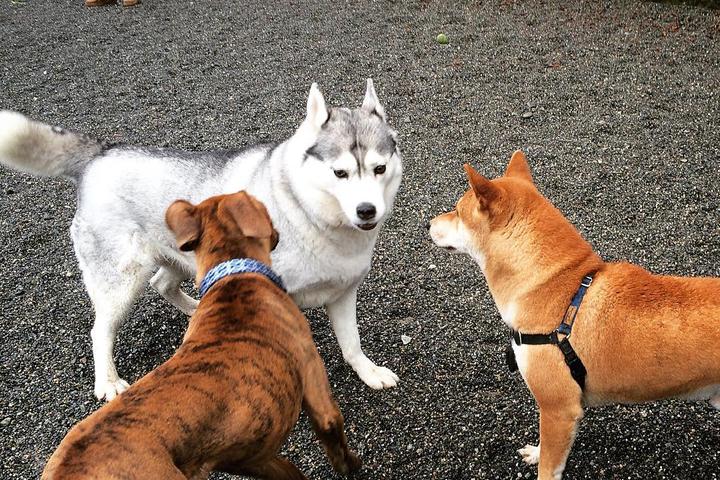 1050 Pike St, Seattle, WA 98101
Bring your dog to play off-leash at this fenced dog park with gravel ground cover and seasonal running water.
I-5 Colonnade Park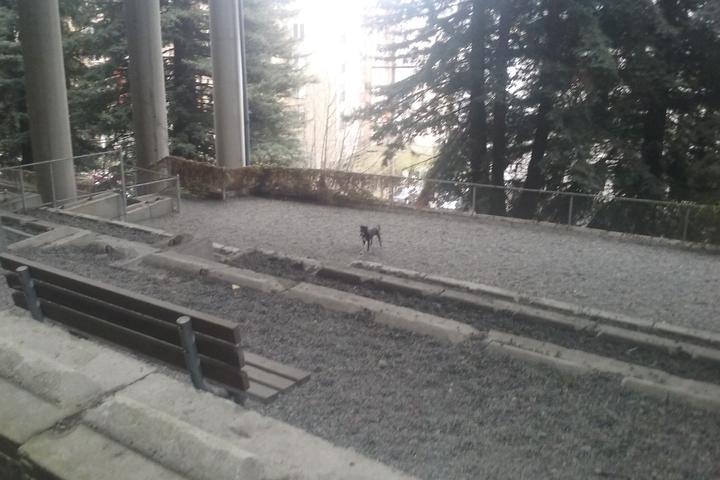 1701 Lakeview Blvd E, Seattle, WA 98102
This fenced city dog park is protected from the rain by the overpass and includes crushed gravel ground cover, benches, and water spigot. It is located on a steep slope under the I-5 freeway just north of downtown Seattle. It covers .5 acre with several large tiers connected by walkways and stairs.
Woodland Dog Park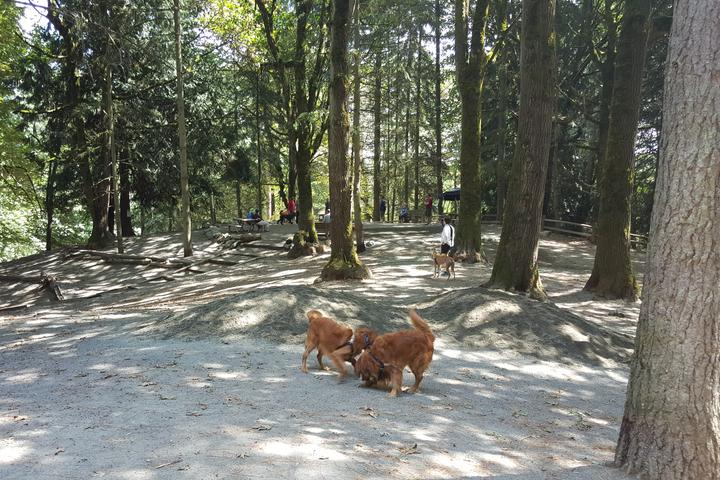 1000 N 50th St, Seattle, WA 98103
Pet owners love this pretty, fenced dog park on a sloped hillside with benches, trees, and a water spigot. It's a great place for your pet to play off-leash.
Voff Bark & Brew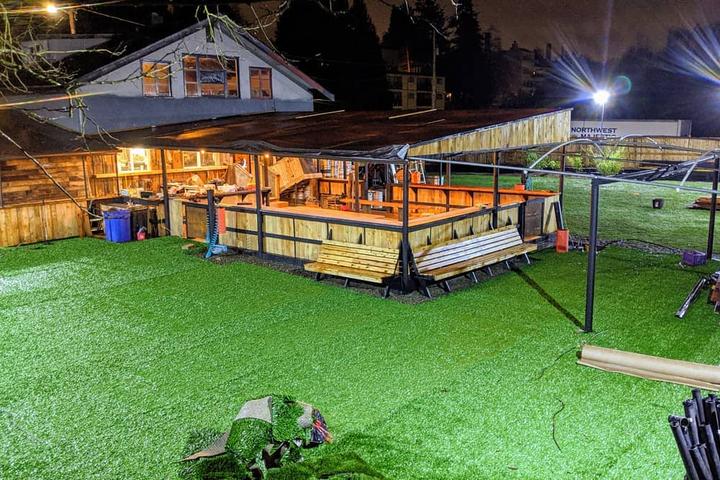 9731 Greenwood Ave N, Seattle, WA 98103
Voff Bark & Brew is part bar, part dog park. It's truly made for dogs by dog people. People and pups of all ages are able to roam free in the sports-bar or venture outside to the wrap-around cedar bark-lined yard. They offer 25 beers, wines and ciders on tap. Dogs can offer their moral support as you embark on Trivia on Tuesdays. Additionally, they show outdoor movies, major sports on TV and they even have pools for pups to splash around in. Voff Bark & Brew is open weekdays from 3pm to 10pm, Saturday from 12pm - 10pm and on Sunday from 12pm - 9pm.
Voff Dog Park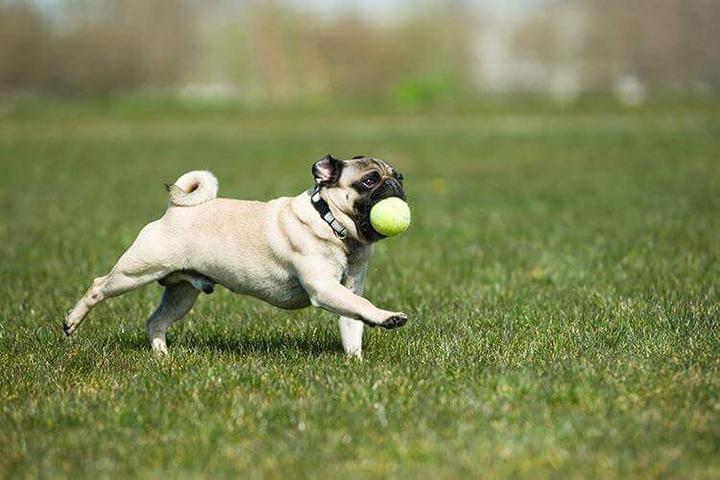 9731 Greenwood Ave N, Seattle, WA 98103
Westcrest Park Off-Leash Area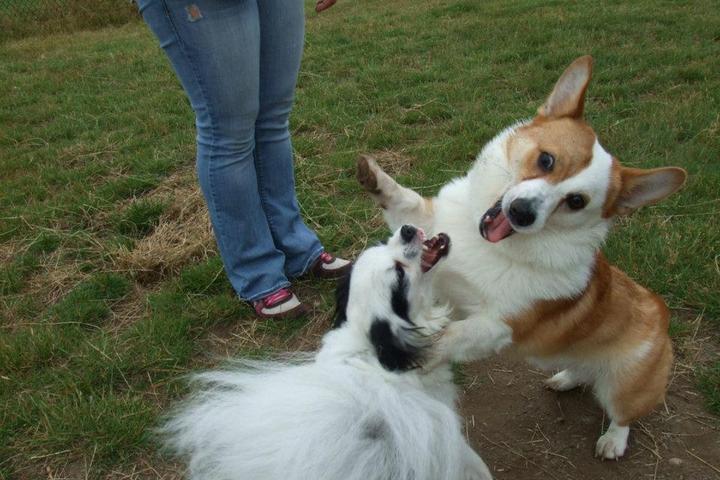 9000 8th Ave SW, Seattle, WA 98106
Westcrest Park Off-Leash Area is an 8.4 acres, dog-friendly park in Seattle, WA. The park features a doggie drinking fountain, shade, trees and lots of open space. There is also a separated area for small and shy dogs located on the southwest side of the main off-leash area. For people, the off-leash area provides benches, chairs, and a shady place to relax. Restrooms, play areas and picnic areas are nearby.
Dog Yard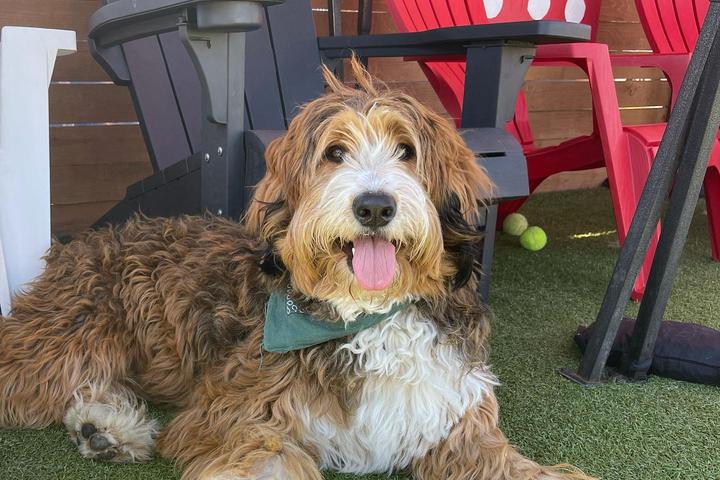 1546 NW Leary Way, Seattle, WA 98107
Dog Yard is Seattle's finest indoor/outdoor off-leash play park and bar. A place where parents and their pups can socialize, exercise, relax, and enjoy a drink or treat! Before entering the park, all dogs must register a Pet Profile and upload vaccination records. Owners can enjoy beer, seltzer, hard cider, wine, as well as bottomless mimosas on Sundays. The Dog Yard also serve snacks and plenty of dog-friendly edible treats!
Denny Park Off-Leash Area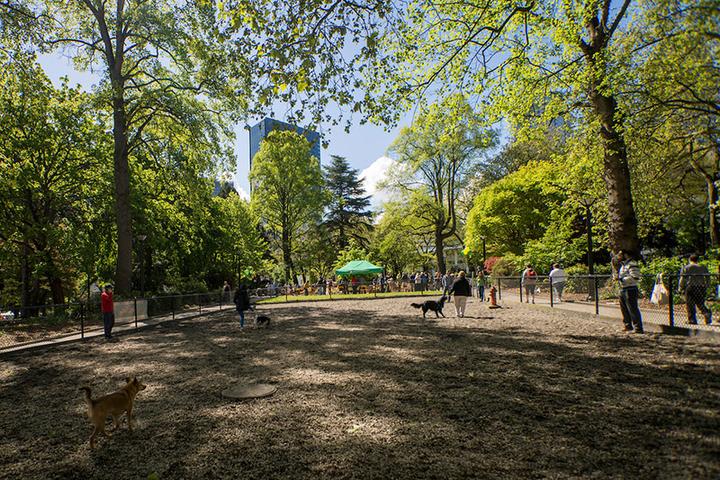 100 Dexter Ave N, Seattle, WA 98109
Located in the city's oldest park, Denny Park Off-Leash Area is a safe space for Fido to socialize and play. The Off-Leash Area is .105-acres, wheelchair accessible, surfaced with granolithic gravel, double-gated, and surrounded by a 4' tall fence.
Warren G. Magnuson Park Off-Leash Dog Area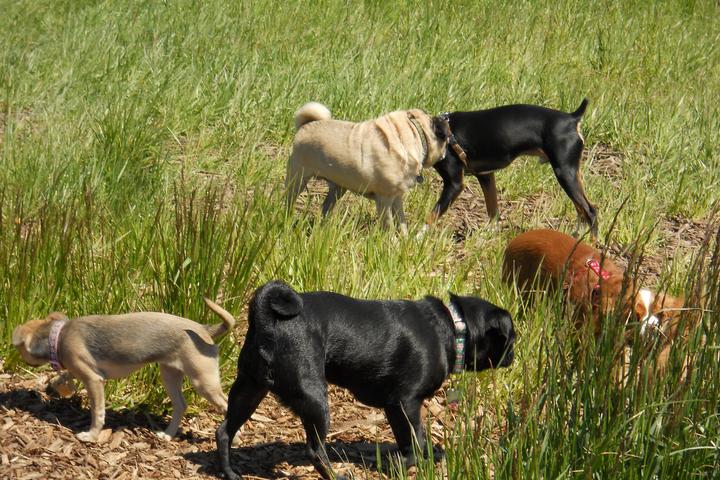 7400 Sand Point Way NE, Seattle, WA 98115
Magnuson Off-Leash Dog Area is a fully-fenced, 6-acre dog park divided into several smaller areas with access to swim in Lake Washington. Best of all, it's the only dog park in Washington with beach access.
Golden Gardens Park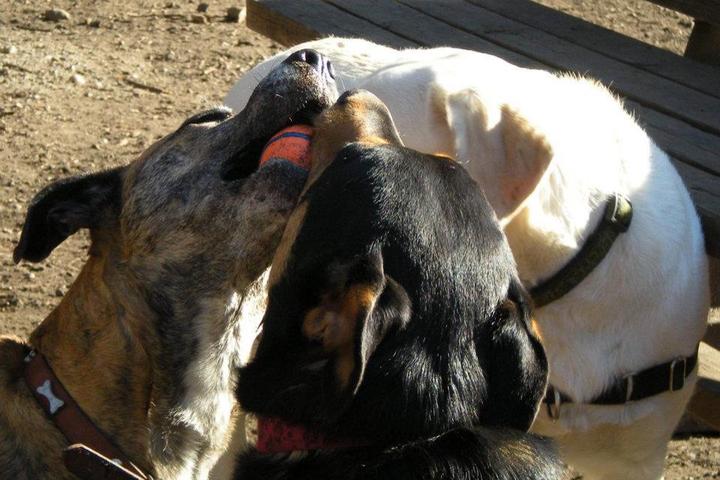 8498 Seaview Pl NW, Seattle, WA 98117
Golden Gardens' one acre off-leash area is located in the upper northern portion of the park and is a popular destination for dogs. The area includes a wide-open space covered in wood chips for playing and running., and trees are scattered throughout the off-leash area. Tables, benches and a small covered area offer places to rest and protection on rainy days. Parking and a restrooms are nearby.
Growlerz Seattle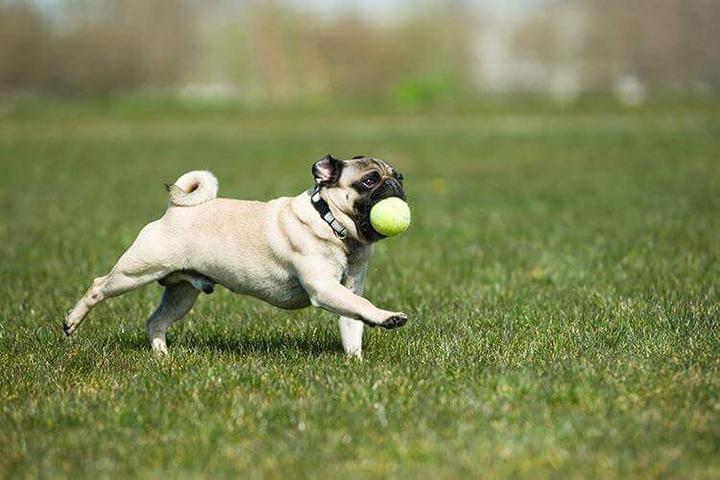 5269 Rainier Ave S, Seattle, WA 98118
Genesee Dog Park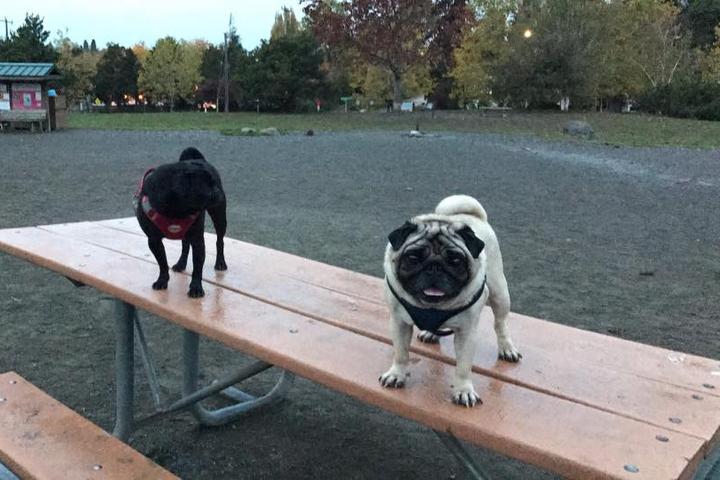 4316 S Genesee St, Seattle, WA 98118
Genesee Dog Park is 2.7 acres and is completely fenced with two double-gated entrances. The center two acres are covered in gravel, making it mud-free in the winter. It also features a doggie drinking fountain and a small/shy dog area.
Kinnear Park Off-Leash Area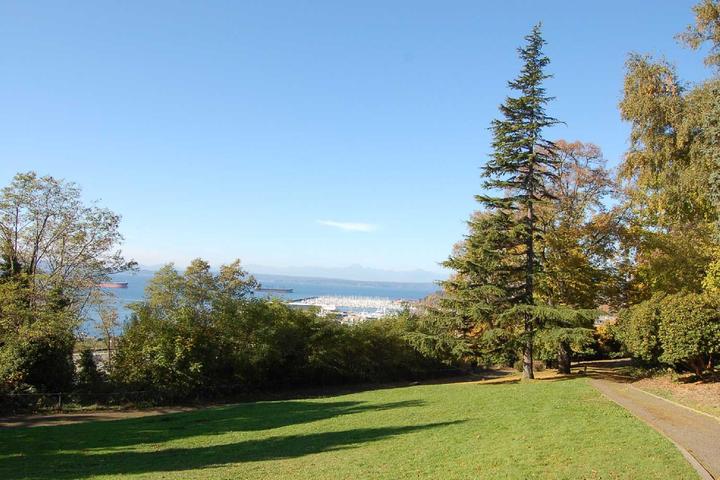 899 W Olympic Pl, Seattle, WA 98119
Located in the west section of the park, Kinnear Park Off-Leash Area is a safe space for Fido to play. The dog park is 5,400 square feet, on a relatively flat incline beneath a towering forest. The Off-Leash Area is surrounded by a 4' fence, has a double-gated entrance, with a single gate emergency exit in the rear to ensure dog safety. It features a kiosk, natural wooden fencing, wood chip surfacing, logs, rocks, a bench, and native plantings on the adjacent hillside. On weekends and after business hours, the site offers dedicated parking in a lot behind Queen Anne Upholstery at the end of W. Mercer Street. Dog owners should enter at 904 Elliott Ave. W. The park is open from 6am to 10pm, daily. Dogs must be leashed on trails outside of the fencing and when walking between the Off-Leash Area and parking.
Regrade Dog Park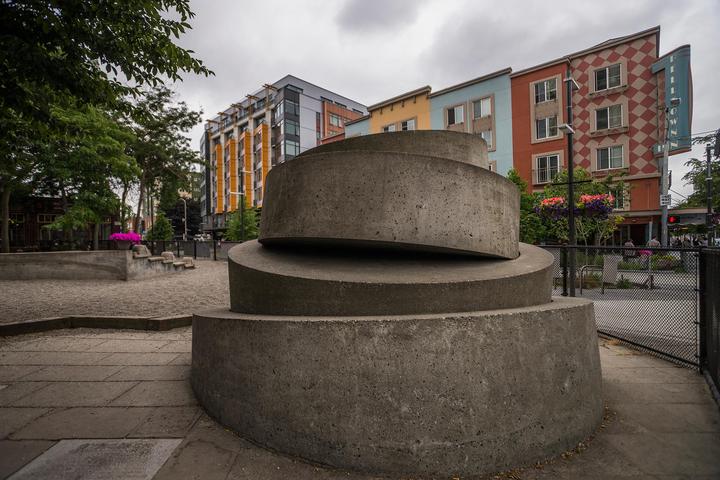 2251 3rd Ave, Seattle, WA 98121
Though small, this fenced off-leash park's convenient downtown location makes it a favorite with locals. Drinking water is available.
Dogwood Play Park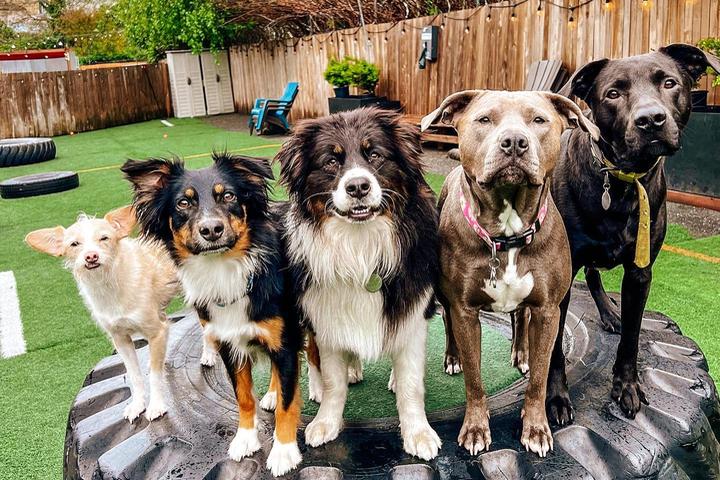 12568 33rd Ave NE, Seattle, WA 98125
Dogwood Play Park is an indoor/outdoor off-leash dog park & bar in Seattle, WA. Fido can run, play and socialize in a safe environment while you unwind with a relaxing drink. A fee is required for entry. Visitors can choose to pay for a "drop in" single visit, or purchase a monthly or annual membership. Fido can romp around both the indoor and outdoor areas which are equipped with play structures such as tunnels and giant oversized tires. Human visitors can step up to the bar and choose from a selection of beer, cider, wine, non-alcoholic drink options and snacks.
North Acres Dog Park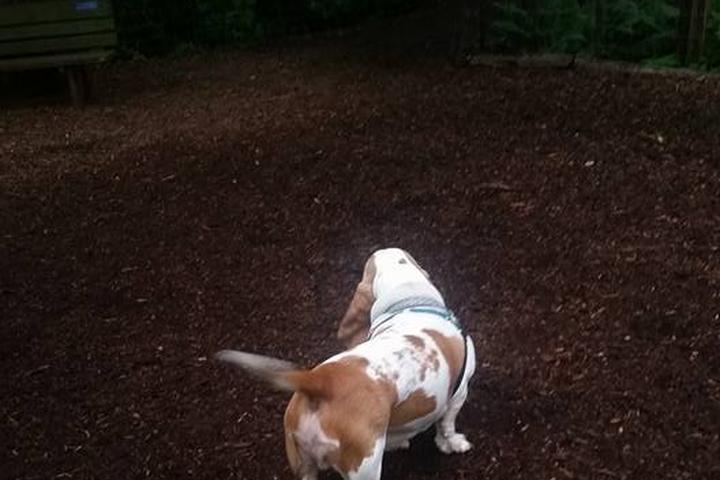 12718 1st Ave NE, Seattle, WA 98125
Pets love the chance to play off-leash at this fenced dog park, which is located in the northeast corner of North Acres. Drinking water available.
Dr. Jose Rizal Dog Park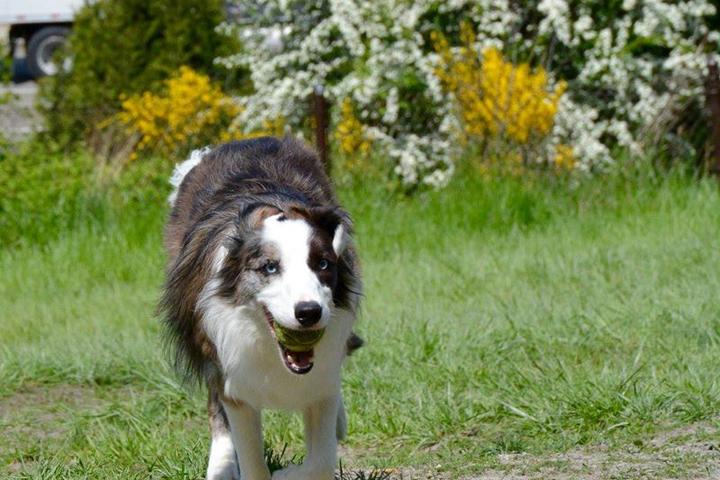 1008 12th Ave S, Seattle, WA 98144
Pets are welcome to enjoy plenty of off-leash playtime in this large park. Much of the park is not fenced, however there is a fenced dog run for those who feel more comfortable with their dog playing in a more confined space.
Blue Dog Pond at Sam Smith Park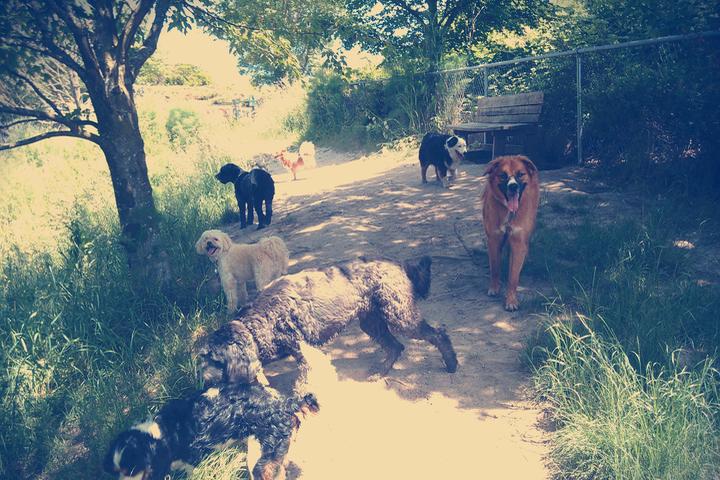 1400 Martin Luther King Jr Way S, Seattle, WA 98144
You can't miss this off-leash area marked by a sculpture of a big blue dog located at Martin Luther King Jr Way S. & S. Massachusetts. The Blue Dog Pond Off-Leash Area is a wide, rectangular 1.7-acre field, with grassy side slopes that your dog can run up and down. The Off-Leash Area is fully fenced and has running water.
Shoreview Off Leash Dog Park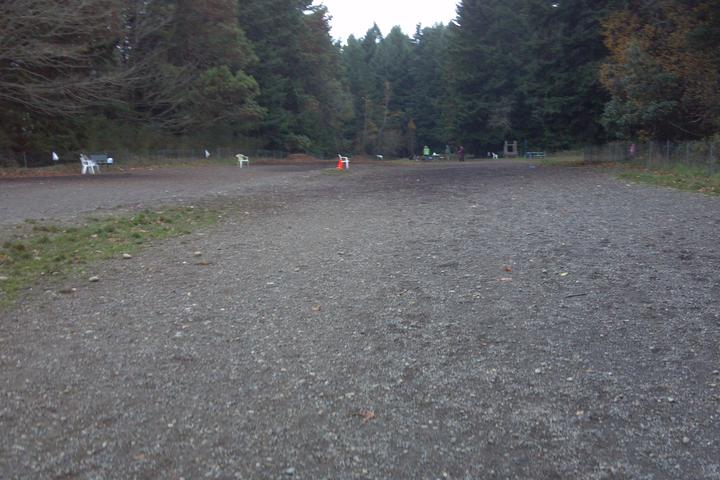 320 NW Innis Arden Way, Seattle, WA 98177
Pets will love to play and run off-leash in this designated area by the Shoreline Community College. Be careful as the area is not fenced.
Magnolia Manor Park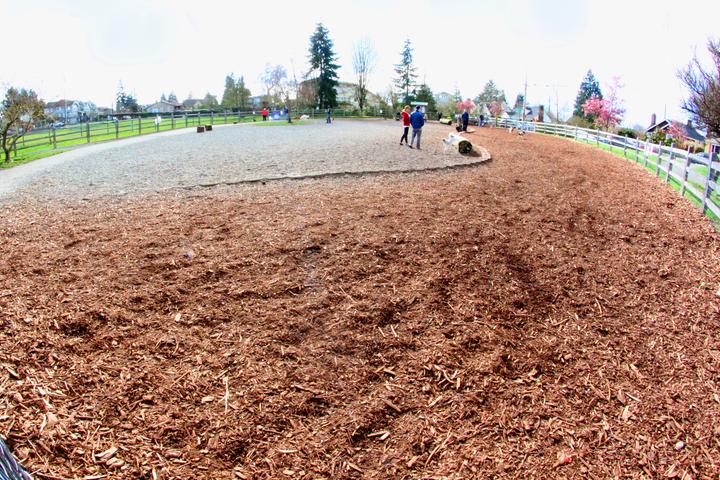 3430 27th Ave W, Seattle, WA 98199
Magnolia Manor Park is in the Magnolia neighborhood of Seattle. It offers spectacular views, a "chuck it" game zone, and a dog drinking fountain. The 21,000 square foot off-leash area has entrances at 3500 28th Ave. W.
Willis Tucker Dog Park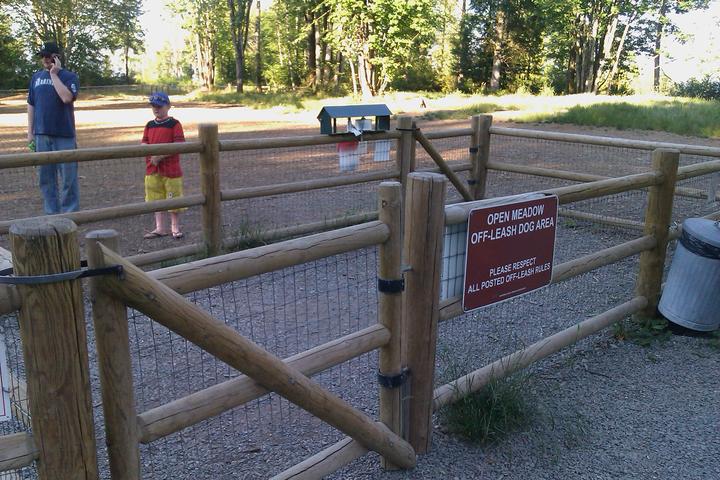 6705 Puget Park Dr, Snohomish, WA 98296
Willis Tucker Dog Park is an off-leash dog area at Willis Tucker Snohomish County Park that has over 10 acres of fully-fenced areas for dogs and their people to enjoy. Willis Tucker Dog Park has three fenced, off-leash areas to choose from: an open meadow, a forested trail, and a smaller older/shy/small dog area. Drinking water is available.
Rotary Bark Park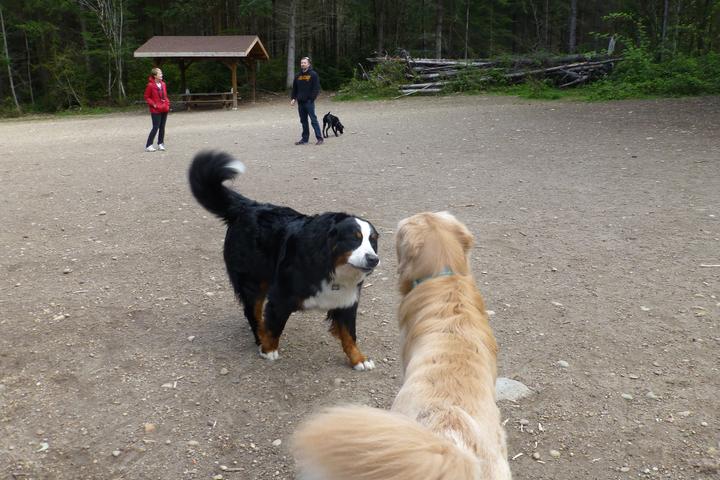 10100 Bujacich Rd NW, Gig Harbor, WA 98332
Dog-friendly Rotary Bark Park in Gig Harbor, WA, is a 15-acre off-leash park in the woods with trails and a play meadow. There are picnic tables and a shelter located in the meadow area. Designated parking is available in the Pierce County Fire District parking lot, and waste bags and a water faucet are available.
Overall, Seattle is a city that values its dogs and offers plenty of opportunities for owners to explore the great outdoors with their furry companions.
From sprawling off-leash dog parks to beautiful nature preserves, there's no shortage of places for you and your dog to enjoy some quality time together.
While you're out and about with your pup, it's important to remember their health and wellbeing. That's why we highly recommend booking an appointment with our mobile veterinarians in Seattle, WA. With a mobile vet, you can ensure that your dog is getting the care they need without having to leave the comfort of your own home.
So, don't wait – book your mobile vet appointment today and keep your pup healthy and happy!
Back to top