Orange County, California is a pet lover's paradise. With its sunny climate and miles of beautiful beaches, Orange County is a great place to explore with your furry friend.
Fortunately, Orange County also boasts numerous dog parks that cater to the needs of every dog and their owner. From small neighborhood parks to expansive off-leash areas, Orange County has it all. If you're on the hunt for the best dog parks in Orange County, CA, we've got you covered. We've rounded up the top dog parks in the area, so you can find the perfect spot to spend quality time with your pup.
So, grab your leash and let's discover the best dog parks in Orange County, CA!
Before having your dog socialize with others they aren't around often, it's best to ensure your furry friend is up-to-date on their vaccinations. Luckily, our team of mobile veterinarians in Orange County, CA can bring expert veterinary services such as vaccinations, microchipping, and wellness exams to the comfort of your home!
Bellis Dog Park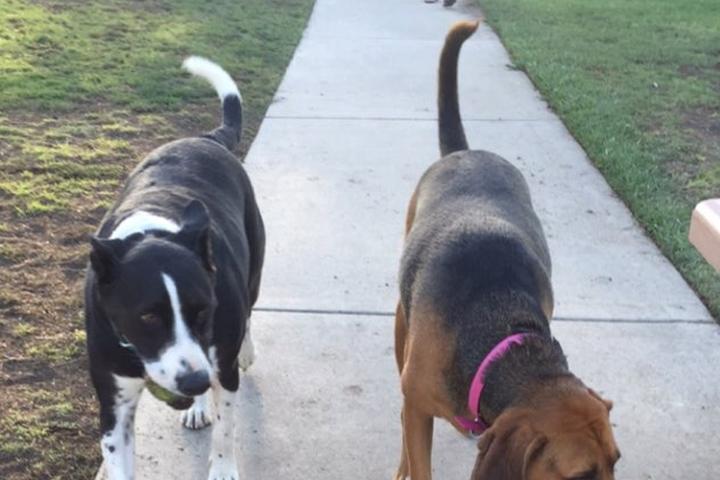 7171 8th St, Buena Park, CA 90621
Bellis Dog Park is a grassy, fenced area for off-leash play, located directly north of the tennis courts at George Bellis Park. The park also has drinking fountains and trees. The park opens at 8:00 AM daily except for Thursdays when it opens at 10:00 AM due to weekly maintenance.
Gum Grove Park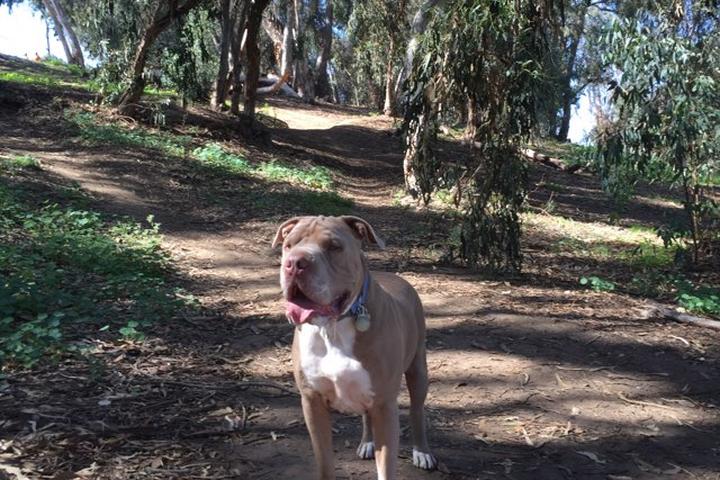 Crescent View & Avalon Dr, Seal Beach, CA 90740
Dog-friendly Gum Grove Park is a 10 acre gem that is one of the largest and best dog parks in Seal Beach, CA. It is fully fenced in and has water and dog bags at the Avalon entrance. There are two parking areas for park users
Recreation Park Dog Park
5201 E 7th St, Long Beach, CA 90804
Recreation Park Dog Park is a two-acre dog park with separately fenced areas for small dogs and large dogs. The park also features trees, benches, water, and waste bags. Park may be closed Mondays before noon for maintenance.
Uptown Dog Park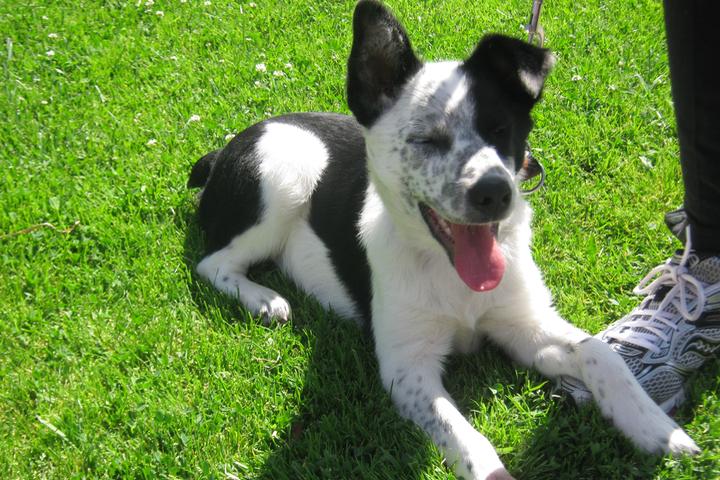 4600 Long Beach Blvd, Long Beach, CA 90805
The Uptown Dog Park provides separate areas for small and large dogs to play off leash. The fenced area is located near picnic areas and a parking lot.
El Dorado Park Dog Park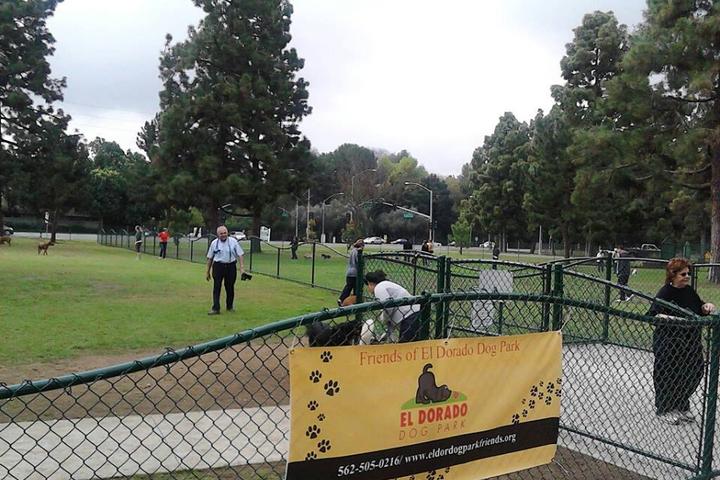 7550 E Spring St, Long Beach, CA 90815
Located within El Dorado East Regional Park in Long Beach, CA, allow Fido off-leash play at El Dorado Park Dog Park. There are two separate fenced areas for large and small breeds respectively, in addition to a water fountain and pet waste stations. Please note that there is an entrance fee for visitors arriving by car. Cash and credit cards are accepted.
Central Bark Dog Park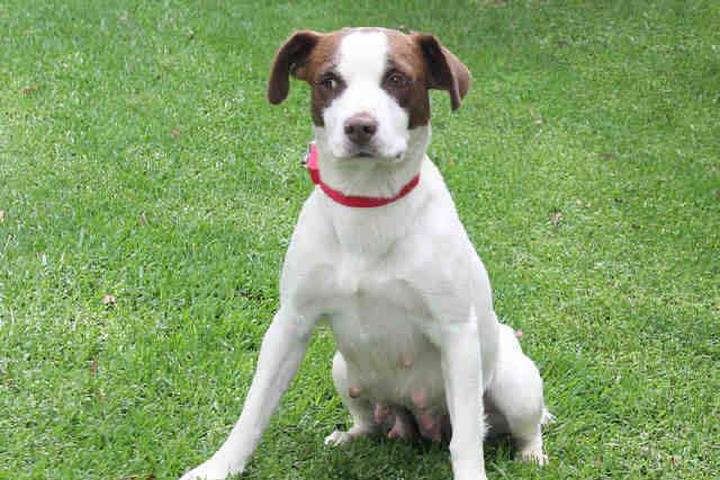 6405 Oak Canyon, Irvine, CA 92618
This large, clean off-leash dog park is a favorite with local pet owners. It features separate areas for large and small dogs. There's plenty of grass, water fountains, and shade areas. Parking can be a bit limited during busy times.
Newport Beach Dog Park
San Miguel Dr, Newport Beach, CA 92625
Newport Beach Dog Park is located at the northern end of the Civic Center and Park, this fenced area is a great place for your pooch to safely stretch her legs. There's on-street parking on Avocado Avenue near the dog park, or you can park in the Civic Center parking structure and walk through the 14-acre park with your leashed pooch over a bridge across the San Miguel. Dog owners are reminded to clean up any mess that is left behind.
Costa Mesa Bark Park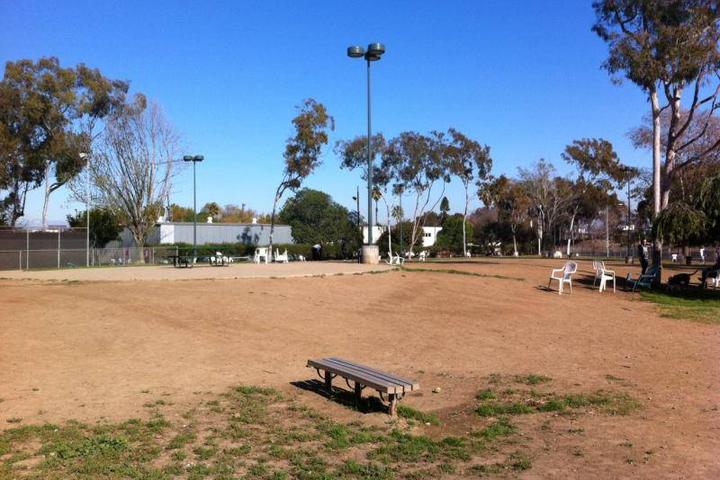 890 Arlington Dr, Costa Mesa, CA 92627
Leashed pets welcome at this well-maintained park, which includes separate small dog area, fences, restrooms, waste bags, trees and benches.
Laguna Beach Dog Park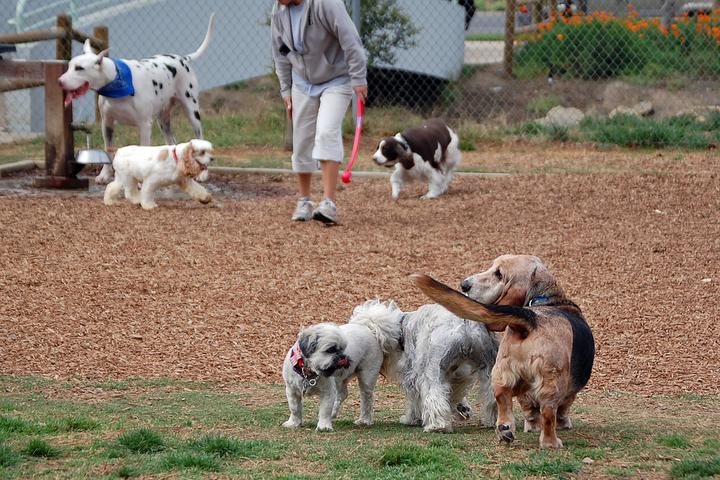 20672 Laguna Canyon Rd, Laguna Beach, CA 92651
Laguna Beach Dog Park is a great place for the dogs of Laguna Beach to get some exercise and socialize while their owners share the latest news from around town and around the world. The park is open daily from dawn to dusk, except Wednesdays when it's closed for maintenance. When at the dog park, you must pick up after your dog in and out of fenced area. Dogs must be leashed entering and exiting the park. Dogs must be currently licensed. Aggressive dogs must be removed from the park immediately. Professional dog training is not permitted. Spike or pinched collars are not permitted. Sports activities, bicycles, picnics, etc. are not permitted. Take any balls or other toys when you leave. You are responsible for your dog's conduct. If your dog is causing a problem, please leave. Dogs must not be left at the park unattended.
Laguna Niguel Regional Park
28241 La Paz Rd, Laguna Beach, CA 92677
Your dog is welcome to join you on-leash at this beautiful 230-acre park with a fantastic fishing lake.
La Palma Dog Park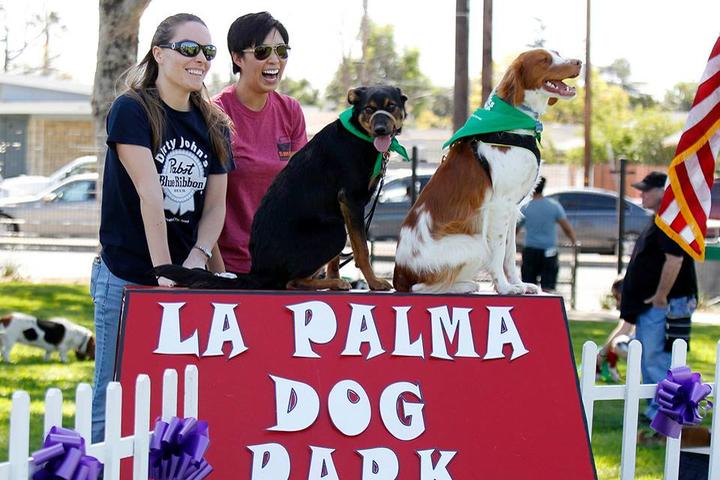 229 W La Palma Ave #201, Anaheim, CA 92801
Located in La Palma Park, one of the largest parks in Anaheim, La Palma Dog Park is the perfect place to play off-leash! The Dog Park features small and large dog areas, shade trees, benches, and drinking fountains. La Palma also features a monument in honor of the Anaheim Police Department's K-9 officers.
Olive Hills Dog Park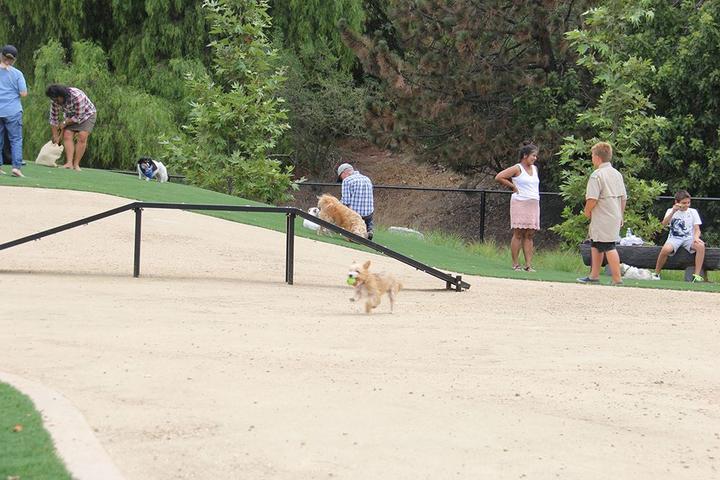 700 S Nohl Canyon Rd, Anaheim, CA 92807
Bring Fido to the Olive Hills Dog Park to play off-leash. The Dog Park features separate large and small dog areas, a perimeter walking path, patches of artificial turf, agility equipment, benches, native plants, and a bronze K-9 Monument honoring the Anaheim Police Department K-9 Officers. Olive Hills Dog Park is open daily from dawn to dusk.
Carbon Canyon Regional Park
4442 Carbon Canyon Rd, Brea, CA 92823
Leashed pets are welcome to enjoy the plentiful offerings of this 124-acre park which also feature a grove of coastal redwood. The developed areas include expansive grassy areas perfect for picnicking, two fishing piers, and a facility for sports. The undeveloped area features a nature trail through the redwoods--a perfect walk for amateur naturalists, birdwatchers, and hikers.
Fullerton Pooch Park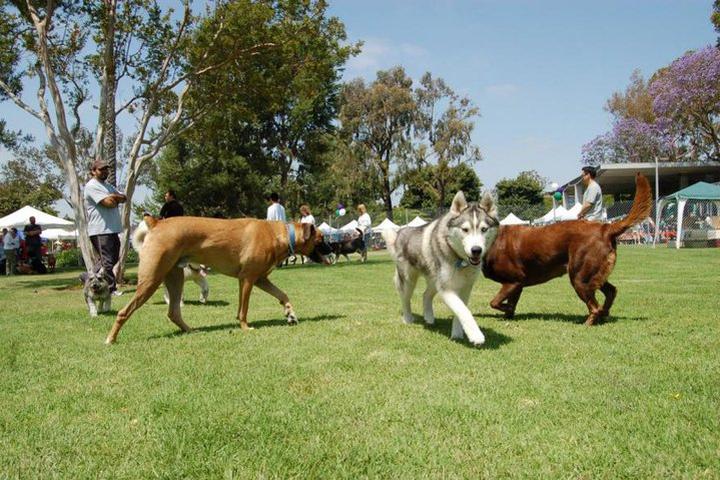 201 S Basque Ave, Fullerton, CA 92832
This clean, grassy, off-leash dog park is fully fenced with running water and water bowls, lights for night use, and a friendly crowd of regulars. Pooch Park features a small dog area, a large dog area, and a third "wood chip" area that is open to all dogs. All pooches and their owners are welcome provided everyone follows the rules and regulations and owners pick up after their dogs. The Fullerton Pooch Park is closed to the public every Wednesday for routine maintenance.
Orange Dog Park
190 S Yorba St, Orange, CA 92867
Locals love this fenced, off-leash dog park, which includes separate areas for large and small pets. Your pet will find plenty of room to run and play.
Overall, Orange County is a city that values its dogs and offers plenty of opportunities for owners to explore the great outdoors with their furry companions.
From sprawling off-leash dog parks to beautiful nature preserves, there's no shortage of places for you and your dog to enjoy some quality time together.
While you're out and about with your pup, it's important to remember their health and wellbeing. That's why we highly recommend booking an appointment with our mobile veterinarians in Orange County, CA. With a mobile vet, you can ensure that your dog is getting the care they need without having to leave the comfort of your own home.
So, don't wait – book your mobile vet appointment today and keep your pup healthy and happy!
Back to top